Mobile Banking
Mobile Banking is Here!
You can download the IBEW 26 Federal Credit Union app through the Google Play Store (Android users) or iTunes (Apple users). If you had previously downloaded the Touch Banking App, simply log-in to the app and click upgrade.
User name is the Logon ID you use to access online banking on your computer. You must enroll in online banking on a computer before you can log-in to the app.
If you forgot your security code (password), go to online banking and click "Forgot Security Code" or call the credit union office at 301-306-0610 (Monday – Friday 8:30am-4pm).
The following is an image of the IBEW 26 FCU app as it will appear in Google Play Store/iTunes: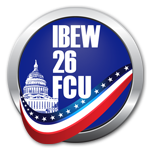 _____________________________________________________________________________________________
Mobile Deposit Capture Instructions
(Check deposit via mobile banking)
These 3 items MUST be on the back of the check: signature, member number (account #), write "for e-deposit only at IBEW 26 FCU". If these three items are missing, your check will be rejected.
Log into Mobile App.
Select "Deposit" along bottom menu bar.
Select "Deposit Check."
Enter amount of the check, then take picture of the front and back of the check.
Select "Next."
Review and confirm deposit.
Your deposit will be available in your account within 2-3 business days.
You must have a checking account to use the mobile deposit feature. $5,000 maximum deposit.
_____________________________________________________________________________________________
Mobile Banking FAQ
Q: What is IBEW 26 FCU Mobile Banking?
A: With IBEW 26 FCU Mobile Banking, you can be sure that your banking activities are with you at all times. You can securely access your IBEW 26 FCU accounts from your mobile device to check account balances, pay bills, transfer funds, find your nearest branch and ATM, and more.
Q: Why should I use IBEW 26 FCU Mobile Banking?
A: The real-time convenience of IBEW 26 FCU Mobile Banking cannot be matched by anything else! Think about all your situational scenarios where it can really come in handy:
When you're at the store, and you see something you want to buy – play it safe & make a quick check on your account balance and make sure you have enough money before you purchase.
How many times do you find yourself simply waiting around? If you're waiting at the DMV, or waiting at the airport for your flight – this would be a great time to get in tune with your spending habits by checking and reviewing your transaction history.
When you're out on vacation, out traveling, or simply have no computer access, you might have a bill you forgot to pay from home or a bill that is due very soon. Don't cut it close. Ensure that you're never late on any of your bills by making a quick and easy bill payment from your phone.
Going out this Friday night and realize you'll need some cash? Find your bank's nearest ATM from wherever you are, which just might be at a convenient store a block away.
Q: Is there any cost for IBEW 26 FCU Mobile Banking?
A: Our mobile banking is absolutely free – even more reason to use IBEW 26 FCU Mobile Banking.*
Q: How can I get IBEW 26 FCU Mobile Banking?
A: It's really easy to get IBEW 26 FCU Mobile Banking. You can simply find our app from your device app store or learn how to register from reviewing the information above. Here is what you will need:
An eligible IBEW 26 FCU Online Banking account
A smartphone (iOS, Android, BlackBerry), a web-enabled device (mobile browser) or standard mobile device with text capabilities*
*Message and data rates may apply. Check your mobile service provider plan for details.
Online Banking
New and improved Bill Pay is up and running!
There are many new features including bill pay and account to account transfers (to other banks).
Log into online banking and check it out!
Download a .pdf (PDF-new window/tab) with images and directions.

Online Offerings
Virtual Branch – The virtual branch is where you manage all your accounts online with the credit union. You can view and monitor your accounts, make transfers, or pay your credit union loan(s) from your savings or checking right from your home computer.
E-Statements – Go Green with E-Statements as well as having that extra security that your statements may not get lost in the mail.
Bill Pay – Manage all your bills online! Set up payment dates ahead of time and never be late or pay for another stamp again!
Member Alerts – By signing up, you'll receive alerts for specified fields such as account balances, deposits, withdrawals, loan payments, and even CD maturity dates. This will help to keep you notified of what's going on with your account.
Account to Account Transfer – Transfer money from your credit union account to your other accounts at other financial institutions. One-time and recurring transfers are available.
Mobile Deposit Capture – Easily deposit checks using your mobile app from the comfort of your home, office or anywhere you have internet access.
Log into online banking and check it out! Click the "Bill Pay" tab once you're logged into online banking.
---
Directions to Enroll for Online Banking and E-Statements
You will need to go to our website: www.ibew26fcu.com
Then click "Online Banking Is Here" (it's in the top right corner in blue and white).
On the next screen, under 'first time user' click "ENROLL"
The next screen will ask for your member number, which is your account number, and can be found on your bank statement. *DO NOT enter a dash when typing it.
It will also ask you for a PIN, which is the LAST FOUR DIGITS of the PRIMARY account holder's social security number.
Once you enter that information, scroll to the bottom of the screen and check the box saying you agree to the terms and conditions. Then click "I AGREE."
The next screen will allow you to change your user name and security code and it will also have you set up security questions and answers.
After you finish that you can click on self -service and then click "e-statements" (MAKE SURE POP UP BLOCKERS ARE OFF).
Look for the "Go Paperless" icon to receive your statements via email! Save paper and avoid a $2 monthly fee by signing up.
---
Directions to Sign Up for Member Alerts
Log into Online Banking
Select "Self Service"
Under "Alerts", select "Account Alert"
Select which alerts you would like to receive and confirm your email address
Press "OK" to finalize and start receiving alerts after 24 hours
Transfer Money
Outgoing Wire Transfers
Contact the receiving financial institution for their wiring instructions. Contact the Credit Union for instructions. All wire transfers must be submitted to the Credit Union by noon. Please list a number where you can be reached in the event there are any problems with the request. There is a $25.00 fee for each wire request.

Incoming Wire Transfers
For incoming wire transfers the following wiring instructions are needed:
Vizo Financial
Middletown, PA 17057
ABA# 2313-8755-0
Further credit:
IBEW 26 FCU
25407475610100
Final Credit:
Your name
Your credit union account number
There is a $15.00 fee for incoming wire transfers.
Routing & Transit for IBEW 26 FCU: 2540-7475-6
Need to transfer money to or from your IBEW 26 Federal Credit Union account?
Via Online Banking's Bill Pay (Only for members with a checking account) – Use Account to Account transfer through Bill Pay. Once logged into your online banking account, click on the BillPay tab, then click the link on the bottom right that says "What else can I do?", then click on the icon that says "Transfer money between your accounts" and follow the instructions to add an account. Once you've added the desired account(s), you will be able to transfer money between accounts.
Via Check – You can visit the credit union in person and have a check or cash withdrawn from your account that you can then deposit at your other financial institution or vice versa. If you're not able to come in person, you can write a request to have a check mailed to your home address. This request should have your name, home address (which must match your home address on file), last 4 of your social, amount the check should be for, state that you would like the check made out to you, your signature, and a number we can reach you at. You can mail (4371 Parliament Place, Suite C, Lanham MD 20706), fax (301-306-0746), or email (information@ibew26fcu.com) this request. Email is not secure, so do not include your account number or full social security number.
Via Wire Transfer – Fill out a wire transfer request (see above). Note that there is a $25.00 fee associated with this, but it is the quickest method. You can also fill out a wire request at your other financial institution to transfer money into your credit union account. There is a $15 fee associated with an incoming wire. Wire requests must be faxed to ensure your information is relayed securely. Check with the other financial institution for any fees they may charge for sending or receiving wire transfers.
Visa Debit Card
Need a new PIN number or forget your current one? You can now access your PIN 24/7!
A new program called Card Self Service is where members can use the telephone to call a toll-free number into the IVR (Interactive Voice Response) service to activate their new, reissued, or replacement debit card. Members will also have the added convenience of being able to use the IVR to select or change their PIN (either forgotten or known PIN). The IVR is available around the clock. The number for this service is: 1-800-992-3808.
To order a new or replacement debit card, you will still need to contact the Credit Union at (301) 306-0610 from Monday – Friday, 8:30am to 4:00pm.
IBEW 26 FCU's Visa Debit Card is a safe, simple, and convenient alternative to carrying a checkbook or cash. Present the Visa Check Card and your purchase will be deducted directly from your Checking Account. There's no interest to pay and you will enjoy immediate approval at the register. For cash-on-the-run, use your Visa Check Card at any ATM bearing the STAR or Allpoint logos.
Debit or Credit?
Debit – If you choose debit at the register, you must use a personal identification number (PIN).
Credit – If you choose credit at the register, the transaction is processed through the Visa network. When you choose credit and sign for the purchase, it actually helps your credit union and other members because Visa transactions are more efficient and less costly than ATM transactions.
If your Debit card is lost or stolen, contact:
After Hours lost or stolen (24/7) – 833-305-5912
After Hours fraud (24/7) – 833-305-5913
In light of the recent data breaches, members need to take extra precautions. Be aware of and never respond to suspicious emails, text messages or phone calls requesting personal, financial or card data. The card information that may be requested includes cardholder billing address, 3 digit CVV2/CVC2 code found on the back of the card, or enrollment criteria/passwords for Verified by Visa SecureCode. If you receive a suspicious request contact the Credit Union immediately. Members also need to monitor their financial accounts closely and report any discrepancies.
IBEW 26 Federal Credit Union: telephone (301) 306-0610 or e-mail information@ibew26fcu.com
:: Electronic mail is not secure, and confidential or personal information should not be communicated in this manner ::
Payroll Deduction
Payroll Deduction
Sign up for payroll deduction today! A little money put away today adds up to a lot of money later. Build up your savings account and have a nest egg available in this tough economic time. Every time you receive a raise, increase your payroll deduction and save even more!
Benefits of Payroll Deduction
Pay yourself first! Your deduction amount will be subtracted from your weekly pay check and come directly to your credit union account.
Repay your loan with payroll deductions! Never worry about mailing a payment ever again. Have your loan paid automatically with your dedication and receive a discounted interest rate on your loan!
Deduct enough money to cover your Union dues then pay them with just a phone call to the Credit Union. All you need when you call the Credit Union (301-306-0610) is your member number and amount owed for dues.
Payroll deduction cards can be mailed to your home. All contractors that have a signed agreement with IBEW LU 26 participate in payroll deductions.
Download a payroll deduction authorization form (PDF-new window/tab).

(new window/tab)
Direct Deposit
Contact your payroll office to have your paycheck deposited directly into your account. You'll need to provide our routing number (also referred to as ABA or R&T) 254074756 and your account number (which is your member number).
Feedback
:: Electronic mail is not secure, and confidential or personal information should not be communicated in this manner ::